In a rut?
Take an Improv Class! You know the feeling.  You find yourself repeating the same routine over and over again.  Every person, place or thing in your life starts to annoy you!  Steel City Improv Theater is here to help.  Take a Level One Improv class with us and begin reaping the benefits today!  Here are just a few:  #1 Movement!  There is a lot of dynamic and specific movement in improv. ...
ALEXDJ with Sizemic Activity
So what is the answer to that old timeless condundrum of what happens when an Computer Engineer meets up with an Epigone Poet on stage? AlexDJ is like Severn Darden and Elaine May had kids and only let them watch The Monkees, Spike Jones and listen to Skintree! O how the zaniness ensues…from becoming a snail, two cows eating grass, and that all needed answer to what happen Marys' lost...
CRIME SCENE IMPROV: FRIDAY AT 9:30
Crime Scene Improv. In the seedy underbelly of any city, countless crimes are committed. The first to respond are Crime Scene Investigators. Spend the night witnessing a crime, investigating the crime and hopefully a confession. It'd be a crime…to miss it. YEAH!
HAIL, POETRY!
HAIL, POETRY! The SCIT's first fully improvised operetta makes it debut over two nights this weekend! Friday, May 18 & Saturday, May 19, both at 8pm.  Come to the Steel City Improv Theater May 18th & 19th at 8pm for the SCIT's first fully improvised operettas!  Veteran performers from Pittsburgh's Savoyards are teaming up with SCIT's seasoned improvisers for night...
NEW CLASSES NOW REGISTERING!
Finally! A Saturday Level One! Starting July 7! Level Two on Wednesdays! Starting July 11! Tuesdays for Level Four! Starting JUNE 5! Musical Improv 101! On Thursdays! Starts July 5! REGISTER NOW!
Bricolage is looking for improvisers!
Bricolage is an incredibly cool and interesting theater company downtown. They're currently casting for their new production, STRATA - and they're looking for improvisers. Jump at the chance to work work with this awesome company! Details Below, or HERE.  Bricolage is holding non-Equity auditions for STRATA on May 22-23, 2012. Auditions will take place at Bricolage, 937 Liberty...
Congratulations to the new TFM Teams!
Can't wait to see you starting this Monday, May 7! Team Pattycake Justin Vetter, Nathan Ratliff, Brett Goodnack, Dan Derks, Jerome F, Keara Kelly, Nicole Antonuccio and Alex Rudzki Team Prantl's  Cassie Brehmer, Anna Gilchrist, Ben Amiri, Derek Minto, Ayne Terceira, Conner McCanlus, Eric Nicholas and Lorin Kozlowski Thank you to all that auditioned! 
SCIT House Team Auditions!
The SCIT House Team Auditions are THIS SATURDAY! Have you signed up for your time slot yet?  Being on a SCIT House Team is an amazingly fun thing. As a SCIT House Team member, you are placed on a SCIT Team that performs every Monday as part of our Totally Free Monday line up. You also receive a card that gets you into SCIT Shows for free! We highly encourage House Team members to support the...
A VERY SPECIAL TFM TONIGHT
Tonight, we bid farewell to the current TFM lineup. Enjoy just one last night of three awesome teams - Hush Hush Consensus, The Up & Up, and The Union (with a very special guest). Tonight's going to be a good night, so come & join us for a fun evening of laughs, tears and lots and lots of meaningful touches. 
SCIT Social is ON tonight!
SCIT SOCIAL IS ON AS USUAL! Tonight will be hosted by Justin Zell. 630pm - 730pm (615pm sign up begins) Come and watch and/or play for free: http://fb.me/DrtydWrc
THE RETURN OF POST CRISIS: TONIGHT. 9:30PM
Hollywood type Mike Capristo is back in town to complete the improv crystal ball that is POST CRISIS.  Only one night only, there's a good chance this will never happen again, ever, so be there! Plus, is there anything worse than trying to explain an improv set to your friend that wasn't there? Especially when it was hilarious, and the whole crowd was laughing hysterically, and your...
TONIGHT! THE NILESH SHOW AT 8PM!
Tonight at the SCIT, things are happening that may never happen again.  At 8pm, The Nilesh Show makes his only early show appearance.  What, you say? The Nilesh Show at 8pm? Can't be done. Well, it will, and it's gonna. Nilesh is a mysterious figure, who may never appear at this time slot again. Catch Nilesh Fever*. Featuring Iguanatron (Brian Gray & Greg Gillotti). All this...
IT'S THAT TIME AGAIN!
FRIDAY! The powerhouse improv block that knocks your socks off, puts them on the radiator, then gently puts them back on you*. Blue Stocking Babes at 8, Irony City at 9:30, The Nilesh Show at 11pm! All for only $5 each! Less than a movie, and so much better! Your date will be all like "this is so awesome and interesting, you really put some thought into this", and then you'll be...
Congrats to Emily Askin & Becky Spitler!
SCITizens Emily Asking & Beck Spitler have put their amazing stylist brains together and created Tula Organic Salon & Spa! Go get a makeover! Tula Organic Salon and Spa invites SCITizens to enjoy 10% off during the month of April when they mention Steel City Improv.  Tula is located in Squirrel Hill and offers services for men and women in haircuts and color, skin, hair removal and...
You need to read Bossypants.
From Tina Fey's Bossypants:  Amy was in the middle of some such nonsense with Seth Meyers across the table, and she did something vulgar as a joke. I can't remember what it was exactly, except it was dirty and loud and 'unladylike.' Jimmy Fallon, who was arguably the star of the show at the time, turned to her and in a faux-squeamish voice said, 'Stop that! It's not cute! I don't like it.'...
Theater Of The Heart
"Tell them we succeeded where others have failed. We created Theater of the Heart, a theater where people cherish each other to succeed onstage" - Del Close
Say Hello to our new House Manager!
The SCIT has a new House Manager! DJ Kingsbury, a long time SCITizen, has made the jump to SCIT Staff! We're pleased to announce that DJ will be joining us as the SCIT's House Manager! We couldn't be happier, and DJ is going to rock (well, manage) the house!
Watch
It's a TFM night at the SCIT! Join the Hush Hush Concensus, The Up & Up and The Union for about an hour and 20 minutes of laughs, tears, and 30 second dance parties. 
YOU LIKE COLD SOUP!
Cold Soup is 10% post-it notes, 20% cocktail party and 70% one-act style improv.  Arrive 15 minutes early to enjoy free wine and the company of your fellow audience members as you work together to create a piece of art that will inspire the show. Come on out to see the March performance of new, experimental improv show at the Steel City Improv Theater. Featuring: Anna Gilchrist Brian Gray Nilesh...
Friday at 8pm: Get some musical improv into your...
The LuPones, the powerhouse musical improv group, get up (and probably get down*) on the SCIT Stage to bring you their brand of harmonic made up musical improv. Catch them on their home turf! And they're gettin' some press! * They get all kinds of funky. 
Friday Night, The time is right, for improv shows....
This Friday is gonna be a good one! At 8pm come and take a looksee at Brian Gray's Level One Class show! Stay for the 9:30, the always funny and always morbid (in a good way) The Death Show! This months cast is:  John Feightner Abby Fudor  Greg Gillotti Brian Gray Jethro Nolen Kristy Nolen Michael Rubino Ayne Terceira DON'T MISS IT!
SCIT's own The LuPones are on the Short List!
PRESS! The LuPones, the musical improv powerhouse, is featured in this week's Pittsburgh City Paper Short List!
SCIT on Haters for Hire!
Steel City Improv Theater's Justin Zell and Kasey Daley were interviewed by Derek Minto on Haters for Hire! Nothing is off limits: Hitler's Cat, Internet Pen Companies, and why improv training is important.  LISTEN HERE!
Watch
Young Burgers, a blog about all things cool in Pittsburgh did a short video about the SCIT! Thanks, Nicole! (Also, check out Nicole on Monday nights with Hush Hush Consensus!) 
SATURDAY NIGHT: Musical Improv and Other Mammals
Oh, yes, my pretties … Tonight will be a good one. Start by tossing your name in the bucket for the SCIT Social - A low key, no pressure improv jam for everyone! That starts at 6:30, and is always a fun time! Stay for The LuPones at 8pm. These bunch of musical improv veterans have seen it all: pencil turns gone awry, Mixes gone bad, poorly pinned skirts coming undone because your...
THIS WEEKEND! A buncha awesome shows!
There's some sweet ass energy in the air tonight for this show. Ellie and Tamara, both of Other Mammals, and Ben and Jerome, both of The Up & Up, jump a-stage tonight as "An Evening with Ben and Jerome" and "The Baby Cannons", respectively.  If you haven't seen these two duos in action, you're in for a great time!  Only $5! Cash! At the Box Office!...
10 things Improvisers should do besides improvise...
Kevin Mullaney - improviser, teacher, podcaster, former head of the UCB Training Center, and he who runs the IRC - wrote a fantastic article on his blog about the 10 things improvisers should do besides improvise.  Part of improvising is bringing life experience to the table. The more you know, the more well rounded you are, the better improviser you are. Shake things up. See a play, read a book,...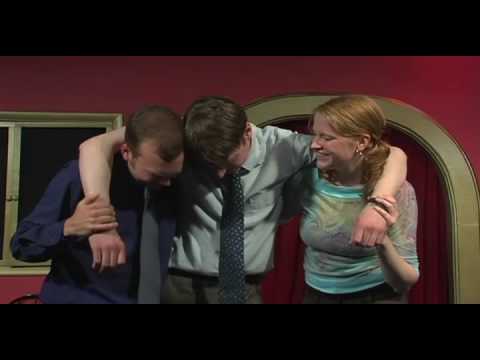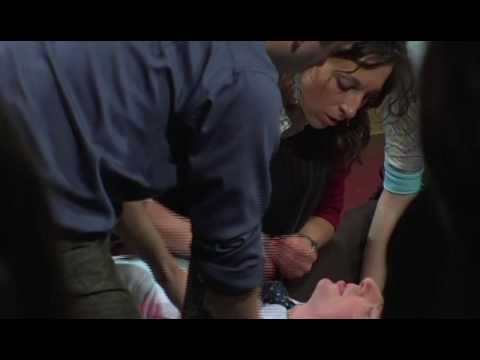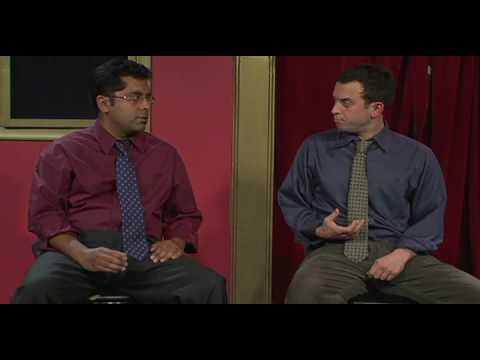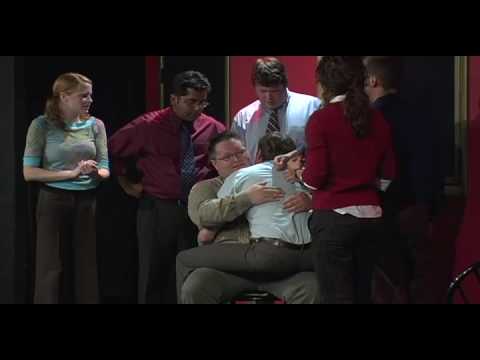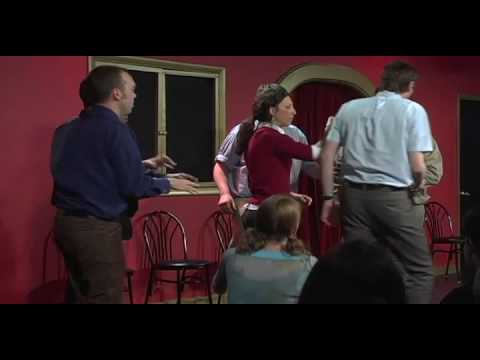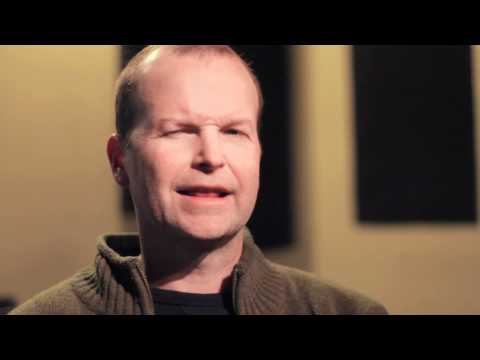 Did you miss Tragic Bliss?
Tragic Bliss, the powerhouse duo of Donald Kingsbury (AKA, The Grifters) and Beth Meenan (Hush Hush Consensus, Blue Stocking Babes) played to a very appreciative crowd this past Saturday at 9:30 at the SCIT.  Somewhere in between Who's Afraid of Virgina Woolfe? and Hee Haw, the duo carved out a niche of emotional highs and lows, witty banter and some serious drama. Funny yet dark, Tragic...
Watch
Been to a Monday night? This is what it's like right before we run on stage!
Tragic Bliss this Saturday!
Tragic Bliss is Beth Ann and Donald Joseph. They are getting Back To Basics.  This what you are going to see is completely IMPROVISED… No one has seen this before, and you will never see this again, all BASED on a word, phrase or geographical place that can fit on the stage shouted out from an audience member…which could be you! This Saturday at the SCIT - 9:30 PM With Special...
Del Close Marathon 14 - Submit your team!
The Del Close Marathon is accepting submissions for this years non stop improvathon.  If your group is on the fence about submitting, here's why you should:  1.) It's free to submit. HOWEVER, don't submit unless the majority of your group can go.  2.) It's fun, and you see more improv than your eyes can take.  3.) You meet a crap ton of people from all over the place.  ...
BEN-EFIT for Animal Friends!
Benjamin Saalbach-Walsh and Jesse Landis-Eigsti have many things in common: they are both singer-songwriters who play sometimes silly but often uplifting piano rock, both improvise piano accompaniment, and both like hyphenation. Join them as they join forces with an A-team of improvisers who will interpret the themes of their songs in a series of spontaneously improvised scenes. Proceeds benefit...
The Death Show
This Friday, The Death Show begins it's regular second Friday of every month slot at the SCIT.  The Death Show opens with the improvisers taking an audience members (they audience member volunteers first) wallet and snooping around. From what they find, they spontaneously create a funeral, complete with mourners and a corpse, and what led up to it.  This Friday, the Death Show will be...
New Level One NOW REGISTERING!
Register now to take advantage of the early reg price! Get in on this now! LEVEL ONE: PRINCIPLES OF IMPROV Instructor: BRIAN GRAY This class uses movement-based exercises, scene work and group exercises to explore the primary fundamentals of improvisation, making you more confident, trusting and graceful on stage. The class emphasizes commitment to your choices, listening, and finding inspiration...
Know Everything!
Will Hines is an improviser, teacher and administrator at UCB-NY. You should all be reading his blog.  I get in trouble for saying that because I deliberately say it in a jerk manner. KNOW EVERYTHING. When someone says "I didn't know the movie my partner was mentioning" I'll sometimes say "Well, you don't HAVE to know it but it would be easier if you knew it." And then people are like "Why do...